Digitally Transforming Businesses To Make Better Decisions, Faster.
Microsoft Gold Partner delivering Azure, Power BI, Power Automate, Power Apps, SharePoint, Teams, Dynamics and more.
Convverge helps you to levergage technology to grow your business
We bring strategy, technology, and people together through digital business solutions. Our goal is to help you digitally transform key pieces of your business to boost growth.
Optimize key processes and work efforts using Microsoft applications, such as Power Apps, Power Automate, and Azure, to modernize your business, improve collaboration, and maximize growth.
Embed agility into your digital strategy using Microsoft cloud services. Get anywhere access to data, collaborate intelligently, scale licensing, and rest easy with best-in-class security.
Maximize timely business data with visual reporting tools, such as Power BI, to accelerate business intelligence so you can stay in front of the competition and make better business decisions, faster.
Digital Strategy Services
Business Process Automation
Data Modernization Services
Business Analytics
Modern Workplace Solutions
Cloud Migration & Services
Bankers Petroleum, Calgary-based international Oil and Gas producer, needed a Microsoft consulting partner to help implement an intranet for their global use. Microsoft 365, formerly Office 365, was a natural fit for all their modern workplace needs. Using SharePoint we were able to connect employees from any location with remote working tools that created an effective collaboration and digital business optimization solution.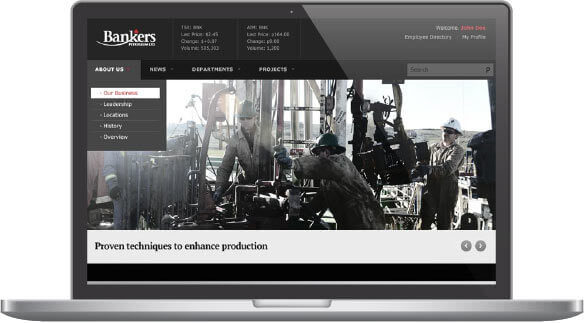 Are you unsure if you're leveraging technology to its full potential? Is your organization fragmented by distributed teams? Are you searching for better digital optimization and visibility into your data?
Book a consultation, request info, view our case studies, chat online or call us.
We're a Gold Microsoft Partner that will help you design and execute digital strategies for important elements of your business.  We help navigate ways to leverage technologies such as Microsoft SharePoint, Power BI, Power Apps, Power Automate, Microsoft 365, and Azure to deliver exceptional business optimization results.