By now, most people are aware of BIG data terms that are out there in industry. Most organizations are finally gaining traction in the Business Intelligence (BI) space. With so many software applications available it can be confusing to know what works best, what is the easiest for your IT department to deploy, what is the quickest for your organization to learn and what is the cheapest option available?
What is Power BI?
Power BI is a free Microsoft application that allows people to mash data from a tremendous amount of data sources and provide unique and actionable insights into your data. It's a dynamic data visualization tool that changes when you click the objects on the screen. And let's be honest…who wants to stare at tables and charts that don't change if you click on them?
Below is an overview of how Power BI takes a data source and consumes it and provides something worth looking at.
There are 3 main products that fit into Power BI as an overall product.
There is the Power BI Service where you publish your reports online to your organization.
Power BI Desktop is where you build reports, transform data and make the magic happen.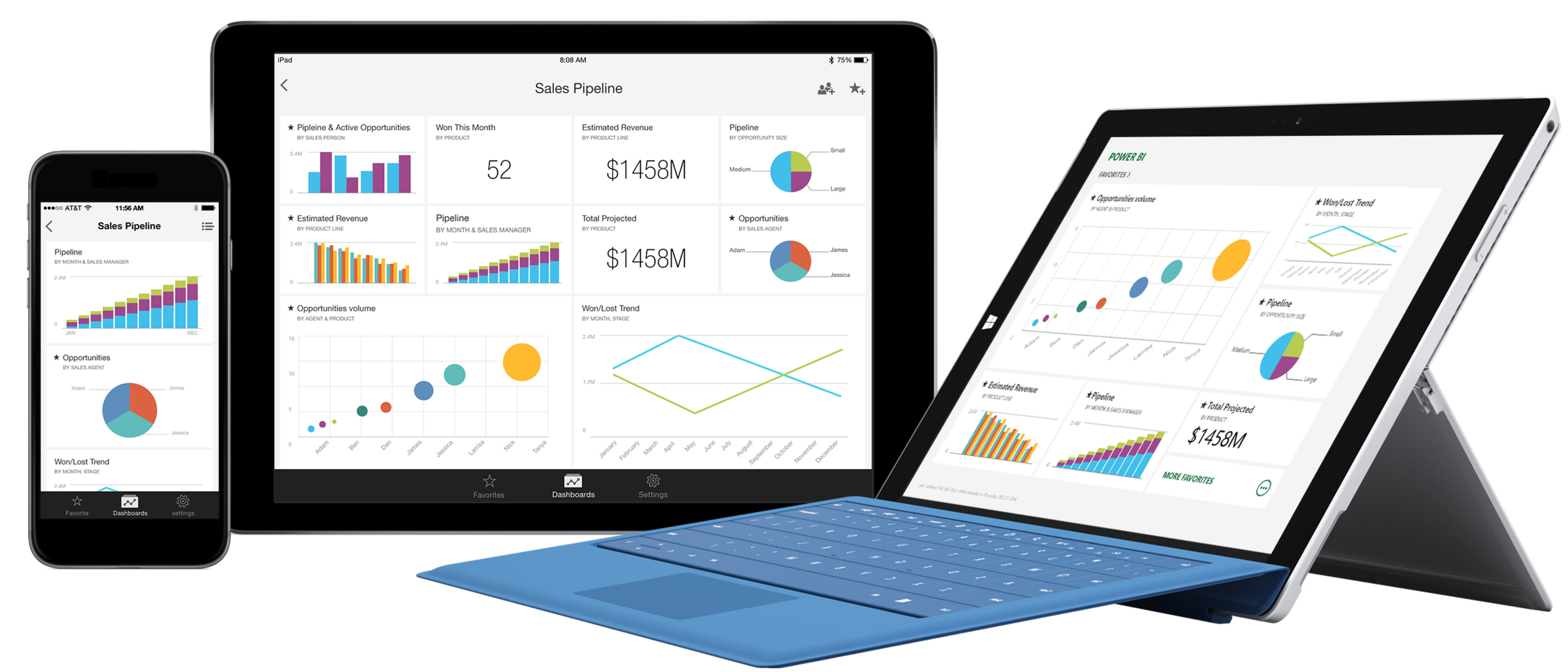 Lastly, Power BI Mobile is where you can consume your reports on your phone or tablet.
What data sources can Power BI connect to?
What can Power BI do for you?
Out of the box it has charts, tables, KPI's and numerous other features you can download for free on the Microsoft store that really bring your data to life. If you have developers in your company they can take Power BI to the next level by creating custom visuals that suit your businesses needs. Whether you are in Operations and have HSE needs, a Dentist office with teeth modelling needs or an Auto Parts company who needs to have some unique visual that represents the day to day work that is meaningful to them. Power BI is often limited by the creativity of the people building the reports. We can help customize and make your experience a very unique one with some of the custom development options Refineco offers yours.
Why Power BI?
Reporting needs are always an interesting dilemma in companies. In some cases, the reporting needs work but reporting continues to evolve and with it the information and perspectives that are required to have a 360 degree view of your business.
Some of the reasons why Power BI is the best choice for your BI needs:
It's a Microsoft product!
Power BI has many visualizations and custom options for even more
It has a familiar look and feel to other common Microsoft Office applications
Power BI is in the cloud
Power BI has mobile apps
Power BI is not expensive relative to other related products on the market
It's easy to use and cheap to train users
Monthly updates continue to evolve the product
Power BI has a very large user community
The user community decides what is most important as part of its future updates
It has a natural language query engine so you can type or ask questions about your data
Gartner considers the Power BI application/service as a major leader in the industry in BI and Analytics
Is Power BI expensive?
Most software applications can cost enormous amounts of money depending on the volume of licenses that you distribute to your organization and what kind of licensing agreement you must commit to. Power BI is relatively cheap overall depending on the volume of people that will use the tool compared to other products in the market. View Power BI Pricing for your organization.
How easy is it for my IT department to deploy Power BI?
Depending on how you plan to use the tool and what your data sources are it can be as simple as acquiring the necessary licenses, downloading and installing the Desktop application and publishing your reports to powerbi.com for your organization to consume.
We can work with your company to help deploy Power BI no matter how different your needs are from other companies.
If you have questions about how we have worked with other organizations and their Power BI needs, and would like to partner with us to help you transform your data and build useful and dynamic reports, please reach out to us on our website or call us toll free at 844-460-8540.